Before making a purchase, you should consider it seriously to ensure everything is in order. It takes a lot of work to replace them, and most of us don't want to spend much time doing it.
We've created this guide to make upgrading kitchen counters less stressful than you could have thought, so don't worry. Continue reading to find out what considerations you must make before starting.
How to replace kitchen countertops?
Countertops are a noteworthy improvement for any house. The surfaces may make a statement whether natural stone counters, solid surfaces, or any other material.
All of this is true, but there are instances when your budget might prevent you from purchasing the kitchen countertop you want. If that's the case, there's no need for concern. Budget-friendly kitchen countertop replacement is more straightforward than most people think. Several low-cost materials can help you create a high-end design for your kitchen remodels.
There are many kitchen countertop possibilities for your home, even though you won't be able to get gemstone worktops on a small budget.
Questions to Ask Yourself:
Before you start choosing the material, color, and other components of your new countertop, there are a few questions you should ask yourself.
Making a decision will be much easier if you can respond to all of these.
Am I satisfied with my current work?
What is my budget?
How much effort will I put in?
Keep these in mind as you go on; you don't have to write them down, maybe aside from the budget.
Factors to Consider When Choosing a Kitchen Countertop
Your Budget
It's interesting to look around for new counter materials, but you should also focus on more useful issues. When selecting the materials for your countertops, take your budget into account. Of course, the size of your kitchen will affect the cost of your counters, but the single most important consideration will be the material.
Materials like quartz and natural stone, as well as copper and wood, may be options if you have a bigger budget. You might be able to find a few limited patterns of granite or concrete if your budget is more in the middle of the spectrum. If you have an extremely tight budget, you might need to start considering laminate and similar solutions.
The Durability
The material's resistance to stains, scratches, and general wear and tear is a significant aspect to take into account when choosing a kitchen countertop material. In general, granite and tile hold up better than laminate when exposed to hot pots, pans, and sharp objects. If a tile countertop cracks or chips, it is simple to replace it. Due to its bare particleboard core, laminate countertops are particularly susceptible to burns and scratches, which can be challenging to repair. Nowadays, soapstone countertops are becoming more and more popular, although they are less resistant to knife scratches than alternatives made of genuine stone.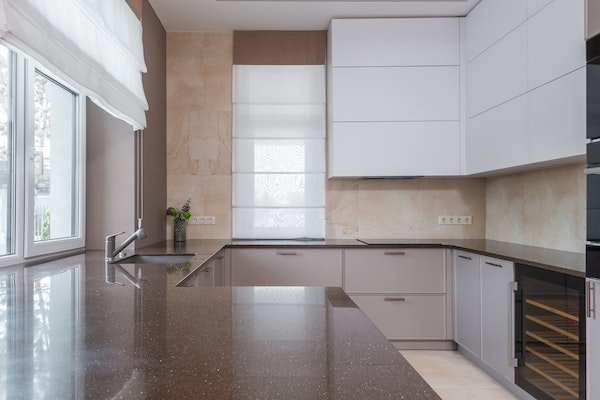 You'll probably change everything when remodeling your kitchen. In these situations, it's crucial to take the weight of the new countertop material you select into account.
Cabinets
The quality of your current kitchen cabinets should be considered before choosing the material for your kitchen countertop. You'll need to determine if you want to keep them or swap them out, for starters. It is better to replace all of your cabinets at once if you intend to replace them within the next few years to avoid spending two installation fees.
Additionally, you must confirm that the weight of your new counters can be supported by your cabinets. Some cabinets of poor quality could not be structurally sound enough to support heavy counter materials. Your counters could end up weighing several hundred pounds since granite that is three-quarters of an inch thick weighs around 18 pounds per square foot.
The Setup Of Your Sink
When it's time to replace your countertop, you should also think about how your sink is set up. You might not need to replace your farmhouse sink when you replace your counters if it is below the level of the countertop. But before you install the new counters, it's frequently necessary to replace sinks that sit on top of the counter or at the very least, have the piping changed.
Your sink drain pipe might not reach the bottom of the sink if your new counter is taller than your old counters. To suit the new countertops, you might also need to modify the faucet settings. It's best to consult your counter installers to determine your ability to work.
Eco-Friendly Materials
A lot of homes want to "go green." If you're one of them, keep this in mind when choosing a material for your kitchen countertop. Consider employing recycled materials in place of choosing a raw material and expending numerous resources to install it. However, keep in mind that these could need more upkeep than conventional choices. So, before buying any recycled material, be sure to ask your countertop provider any questions.
Usage
The look of your kitchen countertop may make or break the overall design of the room. But if you party frequently, cook a lot, or have kids, you should pick a countertop material that can withstand regular kitchen use. Nobody wants to have to replace their kitchen countertop in a few years.
Consider purchasing multiple materials if the countertop material you choose doesn't have a good reputation for usefulness or longevity. For instance, you can place a butcher's block in one portion of the countertop to serve as a built-in cutting board if you chop meat or veggies. Alternatively, if you enjoy baking, pick out a portion of the marble countertop so you have a surface on which to work with dough.
Advice From Professionals
If you're having trouble deciding, talk to an expert who can advise you on the best option from a functional and aesthetic standpoint. The good folks at Pioneer Granite and Quartz say a good fabrication company will be able to advise you on the subtle differences between the various materials and make suggestions for the goods that are most suitable for your needs.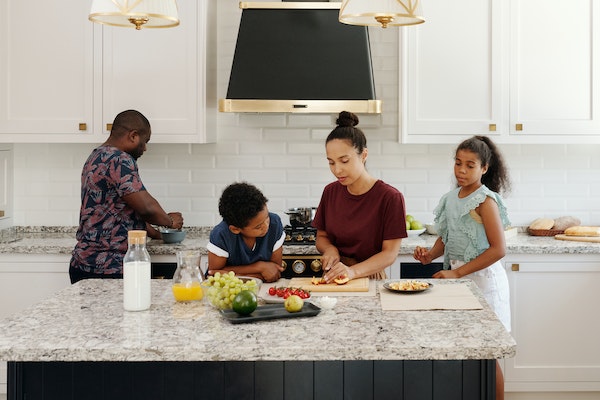 A kitchen redesign or remodeling necessitates a considerable time and financial commitment. By keeping these factors in mind, you design an environment that you, your family, and everyone else can enjoy. There are a variety of kitchen countertop materials available, so there is sure to be something to suit every homeowner's preferences and needs. To be sure you make the right choice, always see the countertop material in person before making your selection (https://www.wikihow.com/Replace-Countertops).